Suspended Concrete Slab
Suspended concrete slab is referred to a cement slab that is not in contact with the ground. This type of concrete slab construction requires different concrete slab design from the one we normally see that is cast on the ground.
The most common application of suspended slab in residential construction is used at garage floor where below the garage floor is a storage room or additional area for family usage.
Home designers sometimes use suspended patio slab that is attached to the main structure to serve as floor for a front porch or canopy while the bottom can be extra storage or bunker for protection from hurricanes and tornados.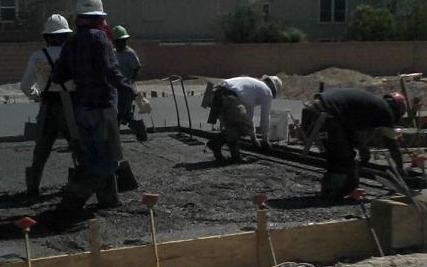 Detail 21 shows a suspended slab with no beam. This slab design can only work for a slab clear span of 14 feet which is only good for one car garage, 2 cars if parked behind the other, not side by side.
To form this type of slab requires temporary beams, columns, and plywood as floor supports for the concrete.
The forming is very similar to that of framing floor of a house except concrete is a lot heavier than normal residential live load and dead load.

The 6 inch suspended slab in detail 21 weighs 75 pounds per square foot but the formwork should be designed to carry 130-150 psf due to the weight of workers and equipment used during pour.
That is why concrete formwork for suspended slab has a lot more columns and beams compared to the normal residential floor framing.
To buy the material for forming plan of using 2x10s for beams at every 5 feet and use 2x6s as joists at every 24 inches. Below each beam are 4x4 posts at every 5ft with braces.
On top of the 2x6 joist are ¾ plywood or mdo which can cost in excess of $60 per sheet. The material itself can be very expensive to buy but they can be used over and over if well kept, which justify the expense. Most contractors turn to renting where scaffold type shoring material are used where aluma beams and steel posts are the norm and cost only a fraction compared to purchasing, a lot more cost effective.
The quicker way for suspended slab is to use metal deck with steel beam where the beam and metal deck remain in place.
Back to suspended concrete slab