Framing Shear Wall
Shear wall is primarily designed and install during wall framing for the sole purpose of resisting the lateral forces that are being exerted on the building by the wind and/or earthquake.
In home construction, this use of the wall system to address lateral stability of the home is not only the most economical but the option that makes the most sense since most of the elements for framing walls for shear are already part of the design regardless. It's a matter of adding a few items such as waferboard nailing to the process of framing a house.
Even though wall framing focuses on stud arrangements and layout, it is critically important to understand that unless all the components shown on detail 34 are precisely followed, the intended benefit of the design will not be fully realized.
The process of determining the concrete anchor bolts diameter, length, and quantity as shown in detail 34 is a responsibility delegated to a structural engineer. Which is precisely the reason if you purchase a house blueprint online you will most likely be required to hire a local structural engineer to stamp the plans for you.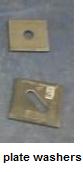 It is important to emphasize the word "local" because most building codes can differ from city to city.
Lateral analysis is the term used by engineers to define the process which eventually lead to the design of walls for shear. At the conclusion of this design analysis a shear resistant system for the structure, if needed, will be posted as part of the construction document along with the wet stamp of approval by the engineer.
The calculation is begins by comparing both the wind and seismic loads. Whichever produce the highest lateral force, wind or seismic will govern the design. Due to the light weight of wood structure compared to concrete, wind load usually governs the residential home design.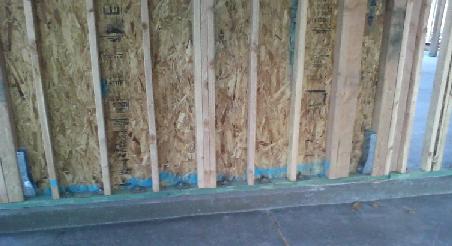 Since earthquake forces are directly related to the weight of the building i.e. the heavier the structure, the more earthquake force it has to sustain compared to less earthquake force in lighter structure such as wood framed building.
Once the shear forces are calculated, they are then distributed to the shear wall via floor and/or roof sheathing (or in engineering term roof or floor diaphragm).
The anchor bolts spacing are determined by dividing the total force in a given wall by the total length of the wall which will determine the anchor bolt spacing. This is the reason you may find different anchor bolt spacing and sizes for different wall location.
For information about nailing waferboards for shear click here. or to learn about prefabricated shear panels go here.
Back to shear wall