Concrete on Metal Deck
Concrete cast on metal deck or composite deck is one of the most effective ways to build concrete floors. Majority of commercial buildings that are two or more stories are built with concrete floor deck or concrete poured on top of steel deck. Usually when this happens, the structure is steel frame. Metal roof decking is the common roof type for this type of structure.
With the ever increasing population and lack of land to develop, constructing multiple story structures will continue to be in high demand.
This will mean structural steel, concrete floor deck, steel roof deck, and concrete will continue to dominate as the structural material of choice for multiple stories structures.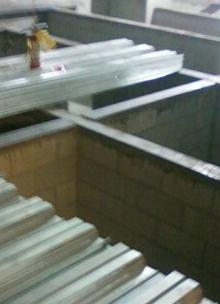 The ability of structural steel to span longer than wood or concrete makes it ideal for composite deck construction. Steel decks span 10 feet or more between steel beams and provide form for concrete floors.
Steel decks come in different sizes and gages. For floor decks, depth varies from 1 1/2 to 3 inches. Gages varies from 16 to 22 gage. The lower the gage, the thicker the metal and more expensive but it can span longer.
Some steel deck are used only for its forming ability to support concrete. This will eliminate the long process of shoring and formwork.
For instance 20 gage 3 inch deep floor decks spans up to 10 feet long, the same deck 16 gage can span 18 feet. This means for 20 gage decks the steel beams need to space at 10 feet max center to center or 18 feet on center if you are using 16 gage decks.
That's the reason a steel beam is added in the suspended slab section for the garage floor to work.
Back to metal deck