Foundation Footings Types
As the foundation footings go, so goes the house or building. For that reason home foundations home foundations and garage foundation are extremely important to be designed and detailed correctly. This page offers varieties of foundation footing options based on soil type and climatic conditions.
Details 4 and 5 are two of the most common details of footing and foundation. They are typically used at cold weather areas where the ground freezes during winter. The basement detail 5 is often used where water table is low, ideal environment for basement.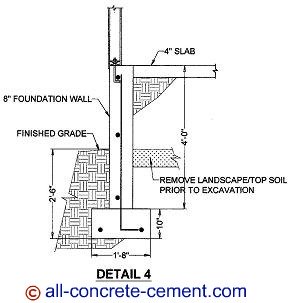 Since garages are often built at ground level, detail 12 is a typical garage footing and foundation. This detail is a step up of the foundation walls from an 8+ ft basement to the garage foundation of 2+ feet.
At commercial construction, structural engineers do not allow foundation walls and footings to rise or drop more than two feet high. They often require incremental rise which resulted in stepped foundations.
For an 8 feet drop or rise in foundation height, 4 or more steps are required. This leads to longer walls and footings which are very costly to build. Due to limited lot sizes and budget, this engineering requirement would have eliminated a lot of basements.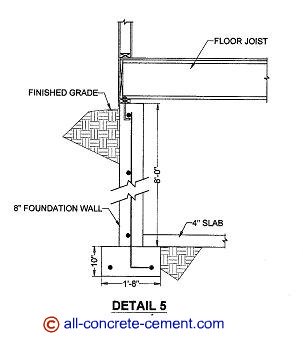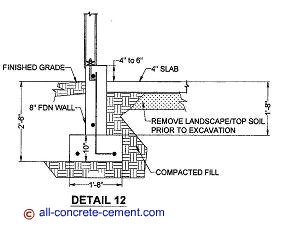 As shown the footings are wider 20 inches than it is tall 10 inches. This is done to maximize the contact area of the footing making it more stable. On the other hand, the foundation walls are taller 4 ft & 8 ft compared to the width of 8 inches.
Attaching the footings directly below the foundation walls prevent the thin foundation walls from cutting through the compacted soil like a knife thru a loaf of bread.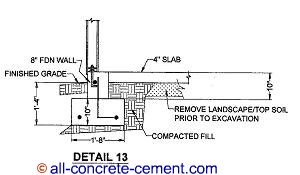 In warm climate areas where frozen ground is not an issue, details 13 and 14 are ideal. In most cases, warmer climate areas are susceptible to high wind storms, hurricanes, tropical cyclone, and heavy rain.
All of these climatic factors must be considered during footing design process. The foundation footing must be big enough such that it's weight counters the uplift forces due to wind load.
Since details 13 and 14 are very shallow, heavy rains will pose problems due to erosion. Proper landscaping and footing drains go a long way in preventing over exposing the footing during heavy rains.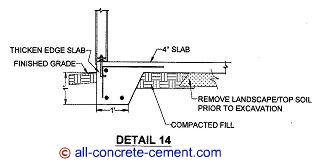 ---
Back foundation footings
More on concrete footing details continuous footing Go to all-concrete-cement.com