Footing Detail
A good concrete footing detail resulted from careful considerations based on the type of structure, weight of the structure, type of soil, climate conditions, etc during the concrete footing design process. Such continuous footing as those shown in the building section below is an example of how residential plans address detail for footings.
Commercial construction plans are much more involved when it comes to showing details for footings. This is partially due to cost (companies spend more money developing plans) and building review requirements.
It is much more difficult and expensive to get building permit for commercial construction compared to residential. Part of permit requirements in commercial construction is footing and foundation plan sheet as well as footing & foundation detail sheet.
On the other hand residential construction building permit requirements are understandably much more simple. This lead to plans that are unclear because engineering design involvement are kept to a minimum.
This resulted in details for footings done by drafters that have very limited knowledge regarding footing and foundation engineering.
The most common footing are spot footings and continuous footings. In almost every structure both residential and commercial use combination of the two.
At All-Concrete-Cement.com you will find sound engineering judgments relating to your footing needs.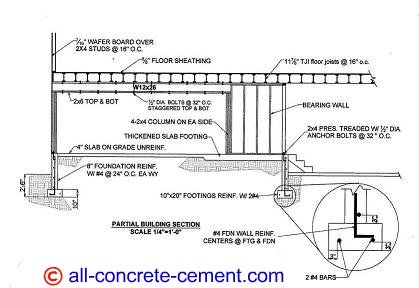 The partial building section detail shown here was one of two building sections that I drafted for a 2,600 square feet house addition. While preparing the plans, the main objective was to pass building permit review.
Making the plans easy to build by providing such details as interior footings detail, detail where the existing house meets the new addition, footing step detail, detail at corner of footings, etc. were not part of the plan.
Due to my personal involved with this particular project, the missing information was provided during construction site visits.
This house addition was built by the home owner, who was not a contractor saving him tens of thousands of dollars.
For more info about footing refer to footing details deck footings post footings
Return to the top