Metal Patio Cover
There are a lot of Metal patio cover designs with different types of materials to choose from. The beauty of patio covers is that there is no limit as to the material or design one can use. If you are looking for diy patio cover plan, the construction plans for patio covers shown in figure 26 can be used as guide or wood patio cover designs such as figure 28, figure 30, and figure 31 are good starting point. Figure 29 is an alternate steel patio cover to figure 26.
From patio cover cost estimate stand point, these patio cover roof plans will provide you with valid information to get quotes from local contractors.
The sketched patio cover figure 26 below can be used as carport for cars or rvs. The plans and the way to assemble the structure is very simple that it will be ideal for a diy project.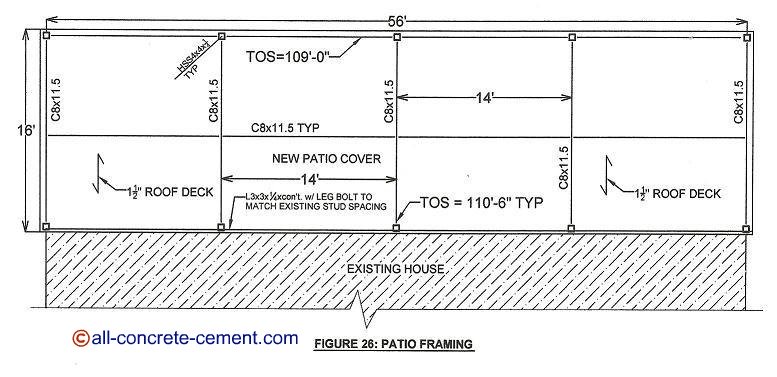 If you prefer to build with structural steel exactly the same way it shown in figure 26, it can be done if you are an iron worker. If you prefer to hire iron workers to install it for you, that will work too.
Should steel is not readily available, you can choose to build the same structure with wood or aluminum.
Back to the top