ICF Prices & Formwork Comparison
Comparing the (insulated concrete form) ICF prices with the conventional handset concrete forming such as Symon forms is a great way to see the benefits of concrete foam forms. Among the great benefits of this new technology ICF foundation or foam concrete forms save energy(no additional insulation required for foundation), easy and fast to install, and it cost less.
To fully understand the cost benefits of ICF concrete forms lets consider a 30ft x 40ft garage or shed with 4ft high foundation wall. For a diyer that wants to form and pour the foundations, lets look at the Symon forms necessary for the job. Provided in the table below are the rental materials required for Symon handset forms for this foundation wall.
These Symon rentals are for 3 to 4 weeks time period. Excluded from this estimate are rebar, anchor bolts,hold downs, delivery to and from jobsite, time to install the forms and braces, time to straighten the walls, time to load and unload the forms, time to remove the form after the concrete is cured, time to clean. Failing to clean the forms and to return them on time will incur extra charges.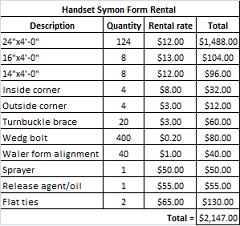 Obviously the rental rates for individual item listed are widely differ from state to state and company to company. If you want a more accurate estimate for form rental at your area call the local concrete form rental companies at your area and request the cost of the items in the list.
The least expensive and fastest to pour foundation walls is to hire a concrete contractor that do foundation walls. The rate for 4 ft foundation walls varies anywhere from $10 to $18 per foot, though depending in your state, area, number of companies that do this type of work the rate may be much higher or lower.
At $10/ft for a 30ftx40ft structure, the foundation wall will cost $1,500-$1,800. This is just to form, pour, and strip the forms which is a day to day and half worth of work for a crew 5 guys or so. Foundation contractors will charge extra for number of corners, number of steps in the footings and foundations, installation of anchor bolts, straps, and hold downs.
While shopping for a foundation contractor, make sure he has concrete forms for footings and walls otherwise he will charge you the rental material of $2,147 shown in the table on top of his labor of $1,800.
If you want footings below the foundation walls, it will cost $5 to $6 per foot extra for a total of $$800 additional.
By contrast the styrofoam blocks shown in figure 39 is 4 ft long x 9 5/8" wide x 12" high. As far as the ICF prices, the total cost for the ICF blocks to complete the 30ft x 40ft building with 4ft high wall will be about $2,100 plus delivery to the jobsite. These are available and can be delivered to anywhere in the United States and all over the world.
These styrofoam blocks weighs about 10 pounds each, far less than Symon form panel and they stag on top of each other to form the wall as shown in figure 40. For an inexperience diyer, it will take two guys less than a day to complete the formwork ready for the pour within a day.
If you want a monolithic slab & foundation pour, the foam blocks can be installed and backfill prior to the pour thereby saving a lot of concrete from waste due to excavation irregularities.
Back to the top