Steel Patio Cover Ideas
Constructing steel patio cover with structural steel C channels, angle iron, and steel tubing, are very common. Most steel patio covers are outdoor patio covers built adjacent to existing structures or as free standing patio covers. The patio roof plan per figure 29 is one of metal patio covers plans that can be used as guide how to build patio covers.
In this design, there are six columns intended to be square steel structural tubing. The point load at the peak of the structure is about 8,000 pounds, estimated based on 20 psf live load and 15 psf dead load. Each of the column that support the peak has 8,000 pounds design load.
The four columns at the lower sides, top elevation 109'-0" each has 4,000 pound point load. This can be calculated using 35 psf total load x 14'x8' tributary area.
For wood framed residential structures these point loads are too high to be tied into the existing studs. That's the reason for adding new tubular columns adjacent to the existing house as shown in figure 29.
When installing footings adjacent to existing structures it is very important to test compaction of the existing fill. In most cases residential construction backfilling are not done correctly burying trash and bio-degradable material. This will lead to settlements if the new footings are constructed above the incorrectly compacted fill.
To prevent this from happening the new footing bottom elevation need to match the existing house bottom elevation of footings. A sonotube type footing where very little form work is necessary is ideal for this this type of work.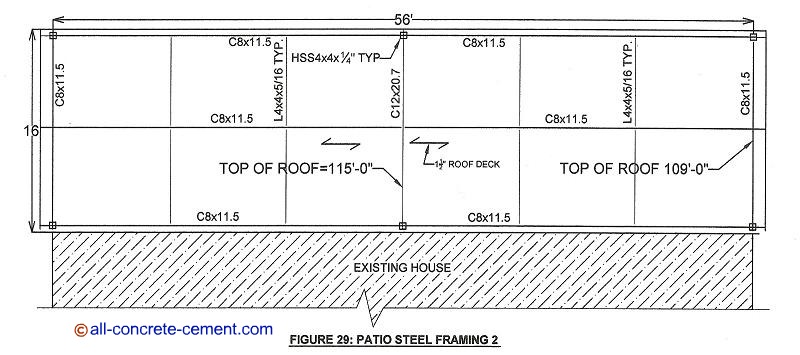 The L4x4 angles shown are there to support the 1 1/2 inch roof deck. The angles minimize the deck span to what is recommended by deck supplier.
In terms of connection method, this design can either be bolt only, welded only connection, or combinations of the two.
Figure 29 design is very straight forward and very simple to build. The simpleness of the design will be easy enough to be field fab and installed. Which means the material can be purchased and delivered on site where they will be cut to length and install, no detailing and shop fabrication.
The easiest way to build steel covers for patio is to hire a steel fabricator - small miscellaneous steel fabricators are best fit for this type of small work. Steel fabricators that know how to build patio covers are rare, majority acquire the material, detail, fabricate, paint, and deliver them on site.
It is up to the owner if you are diy patio cover type or the contractor to hire steel erectors or individual iron workers to install.
Most fabricators have steel detailers that they work with. These are the people that draw how each piece of steel is to be cut, weld, grind, and painted in order to fit as per plans.
Back to the top