Pier Footings
Sometimes pier footings, column footings, spread footing, and post footings can refer to the same footing detail such as details 2 and 18 below. Other times the pier itself is the footing as in the case of details 15 and 16.
As shown on DET 2, the footing is 4 feet square by 12 inches thick. This pier could easily been 4 ft squared by 30 inches deep. Imagine constructing 30 or 50 of these and how much concrete it will take to fill them up.
It is far more cost effective to construct concrete above the footing because they are much easier to form, less concrete, less weight on the ground, smaller pier is easier to cover with building enclosure.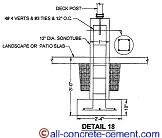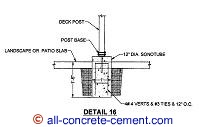 The four details shown here are different types of footings. Detail 2 can be found at exterior of buildings or homes. The pier size at this type of application is dictated by the base of the column. The pier dimensions need to be bigger than the baseplates of the column because they are required to be entirely covered with concrete to prevent corrosion.
Detail 18 is a smaller scale of detail 2. This can be used for footing for deck, walkway, post for stairs, shed footing, footing at garages exposed to cold weather, etc.
Details 15 & 16 show the piers themselves are the footing. Due to their less contact area with the soil compared to details 2 & 18, these has much less carrying capacities. These can be used deck footing, shed footing, sign posts footing, etc.
Click here for other types of footings.
Back to pier footings