Load Bearing Wall
When doing house remodel be very careful with removing load bearing wall (LBW). LBW is a wall that carries load from floors, roof, and other walls above.
These LB walls can be made from wood stud, metal stud, concrete, and cmu block wall. So if you are framing a house pay attention to the stud spacing particularly when framing a wall that serve both as LBW and shear wall.
Walls that are strictly for load bearings usually do not have anchor bolts even though they have concrete footings or thicken slab beneath them.
These walls are often at the interior of the house and are covered with drywall not waferboard.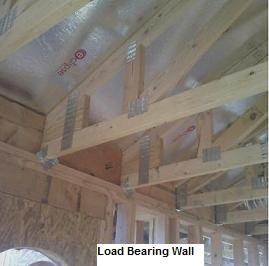 On the other hand walls that are load bearing but also serve as shear walls are usually at the exterior of the house.
They have anchor bolts for shear as well as straps and hold down particularly if there are lots of window openings that interrupt the shear transfer.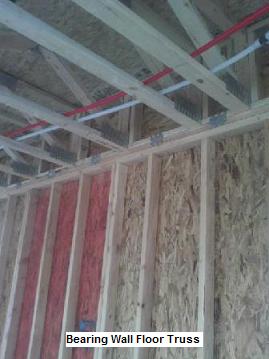 LBWs can be identified by tracing the floor or roof joists and/or roof truss.
Any wall that has floor joists on top is a wall for load bearing. Similarly wall with roof truss or roof joist on top is bearing wall.
In multi story homes depending on roof arrangement some walls may be non-load bearing at the ground level but load bearing at the second level due to roof arrangement.
So before any plans for removing load bearing wall be sure to check both roof and floor framing.
Since both residential construction and commercial construction have history of going through several design phases and changes, record documents may not reflect the actual field condition.
For that reason it is a good idea to always verify what's in the field especially if the project involves removing a load bearing wall.
Even though the truss bottom chords are shown to be on top of the walls, these stud walls are non-bearing.
Prefabricated roof trusses are designed to span from outside walls to outside wall which means no interior walls are required for support.
In this case the stud walls can be removed without altering the structural strength.
Back to load bearing wall