Concrete Slab Insulation
Concrete slab insulation is one of the ways to keeping low cost home energy bill. Studies show 15 percent of total home heat loss is attributed to the slab. For that reason adding an insulated concrete slab as part of concrete slab construction is a critical part of any plans for home insulation that will contribute to the overall cost saving. One to the most common material used for concrete insulation is polystyrene sheets which can be easily acquired from any home improvement stores such as Home Depot or Lowes. The rigid insulation are installed on the foundation walls and/or slabs as shown in the details below.
There are two types of polystyrene sheets that can be used for slab insulation: expanded and extruded polystyrene. Expanded polystyrene (EPS) is lightweight foam plastic that weighs 1 to 3 pounds per cubic foot and has R-factor of 4.17 per inch thickness. According to the manufacturer due to its cellular structure, the R value is permanent and will remain effective the entire life of the structure. Similarly the extruded polystyrene (XPS) has R-factor 5.6 per inch thickness and it does not decrease over time.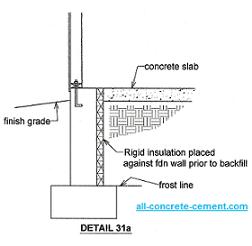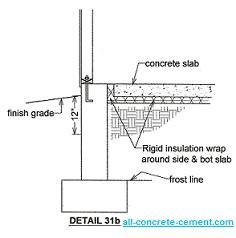 Another rigid slab insulation material is polyisocyanurate (PIR) or polyiso. This material is a thermosetting type plastic that has high thermal resistance property. The R-value for this material is between 7.1 and 8.7 per inch of thickness and is available both in liquid foam and rigid panel. Unlike the expanded and extruded polystyrene, polyisocyanurate tend to lose its R-value over time. Using foil and plastic facing on the rigid panels help stabilize the R-value.
As shown on detail 31a, the rigid insulation is placed against the foundation wall prior to back filling and compaction. This setup will leave an inch and a half to two inches gap between the slab and the foundation wall, depending on the thickness of the insulation.
The other approach is to wrap the slab with the insulation as shown on detail 31b.
Back to concrete slab insulation